Mr. Yoo Chungkuk Selected for Google Fellowship to Study Mobile Sensor Utilization
Emphasis on Fresh Attempts for Research and Activities
"Looking back, I tried promising things only when I began graduate study. But the Google Fellowship made me realize that I cannot see the possibility before I actually try it. I now believe that it is important to give something a try instead of giving up while it's still being conceived." (Yoo Chungkuk, doctoral candidate at KAIST)
Two students in a doctoral program at KAIST were selected for Google PhD Fellowships in 2016, announced in September. Worldwide, only 52 applicants were chosen for the program this year, and the two KAIST students are the only successful candidates in Korea.
The Google PhD Fellowship discovers doctoral candidates studying promising subjects in computer science and offers mentoring, internship, and scholarship opportunities. The selection can be translated to the acknowledgement of significant performance and research subjects of applicants.
Now in his fifth year in the doctoral course at Network Computing Lab (adviser: Prof. Song Junehwa), Mr. Yoo Chungkuk applied for the program in 2015, only to not be selected. This year, he tried one more time and the result surprised him. "What changed over the one year from last year's failure is my internship at IBM and one thesis," explained Mr. Yoo.
Mr. Yoo's story shows that the real factor underlying his selection for the Google PhD Fellowship was a challenging spirit. What brought a different result this year?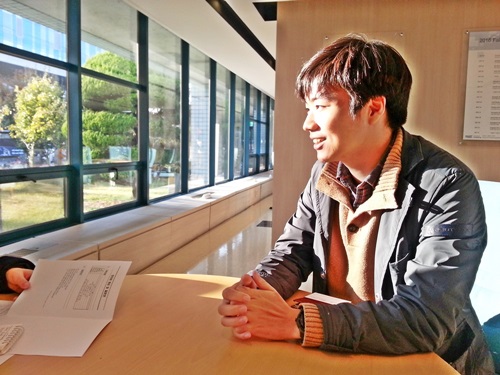 "I regret setting limits and not trying enough."
The research subject Mr. Yoo proposed to Google is a positioning system using mobile sensors. It may sound too difficult to laypersons, but the technology is closely related to our daily lives.
"For a card trick at a large stadium, members of the audience need to pinpoint their exact location to hold the right card," noted Mr. Yoo. "My project is to create a system to use a smartphone in calculating each person's location." The project began with an idea to create a message with light sticks at concert halls.
Card tricks are not the only area using mobile positioning calculation. Automobiles and drones can also use the technology to locate one another in real time. "Different objects can identify the location of one another if they transmit specific vision signals and detect them with a camera," explained Mr. Yoo.
Mr. Yoo developed his research on mobile sensors while doing an internship at IBM in the United States. The six-month internship significantly helped not only his research, but also his second try for a Google PhD Fellowship. Through joint research with IBM, he published a paper at CHI 2016, the world's top conference in the area of computer-human interaction, and registered nine patents in the United States.
"Before I went to IBM, I had not really tried anything adventurous," recalled Mr. Yoo. "I set boundaries for the reason of my poor English." Then one of his fellow lab researchers said to him, "If you do not take up a challenge, how can you know if your research will be valued in the world?" This remark opened Yoo's eyes and prompted him to take a fresh experience at IBM as a research intern.
What helped Mr. Yoo be selected as a Google Fellow this year include a novel research proposal, internship experience, and letters of recommendation. Had he not decided to try one more time, however, he would not have been selected. "I failed before, so I actually hesitated to try again," said Mr. Yoo. "But I finally decided to apply, because you never know what will happen until you try." In the end, his own willingness to take new chances was the strongest driving force behind his achievement.
"Paper quality is more important than quantity. I want to try any research that is interesting."
"I do not know what I will find interesting in the years to come, so I cannot limit the area of research," explained Mr. Yoo with a long-term vision for his life as a researcher.
People often ask him, now in his fifth year in the doctoral program, when he will earn a doctoral degree. He is confident, however, that what research he will graduate with is more important than when to complete his course. He always believes that he will constantly meet new opportunities in the course of his research.
"As a student, my job is to write papers and focus on my own research," Mr. Yoo pointed out. "But then, sometimes I feel that the purpose of research is to increase the number of papers I produce, which discourages my interest in research."
"I went to IBM for an internship when I was in my fourth year, and I belatedly learned how advanced the studies about deep learning and artificial intelligence were," said Mr. Yoo. "I realized that I should not limit the area of my research and should keep developing interest in a range of fields."
Mr. Yoo is now ambitious about studying diverse areas and has found a number of ideas for research. In addition to mobile sensors, the subjects of his previous papers include gesture recognition, playing games through sports, and services necessary for developmental disabilities.
Completing the interview, Mr. Yoo stressed, "I want to try anything that is interesting."